The KDE Plasma device spectrum: netbooks and mediacenters
Speakers: Alessandro Diaferia and Marco Martin
Over the last years we are seeing some changes in the landscape of personal computing: Traditional desktop machines weren't able to provide an optimal user experience for every use case and new products are emerging to fill some interesting market niches. Due to the robustness of our platform, we can deliver an high quality product in a very short time, that integrates seamlessy with our desktop product, having a mutual benefit. The KDE Plasma project recently started different new primary user interfaces (netbook, mobile and the media center) with the goal of integrating seamlessy the device UI with the KDE desktop to provide an unified user experience among the different devices owned by the user. I will talk about the Plasma netbook and Plasma media center user interfaces: this talk is intended to be complimentar with another about the new born Plasma Mobile. I will talk about the challenges of devices like netbooks and tablets and why a different primary user interface is needed, user interaction peculiarities and the challenges of devices that are both netbooks and tablets. Then I will mention how is structured the internal architecture of the Plasma netbook project, and how this architecture helps in resolving those challenges, both in term of hardware constraints and optimal user interaction workflow. The second part of the talk will be held by the KDE developer Alessandro Diaferia about another Plasma shell: the media center. This user interface is targeted both to new kind of devices as well traditional desktop and laptop, with a different use case. This is the so called 10 feet interface: what are the challenges of user interaction when all the user input is done with a limited device like a remote controller and the screen is 10 feet distant? It is also an example how we can find new ways to use standard desktops and laptops: a mediacenter use case requires a simple user interface: what it is optimal for a media center is not much the obvious power and flexibility of the application such as Amarok or Kaffeine, but what matters is to be able to access the media as quickly as possible, without leaving the position of 10 feet distance from the monitor. This becomes even more evident with online content: a web browser is not adapt for this, we again need something more immediate with a simple and intuitive ui.
Alessandro Diaferia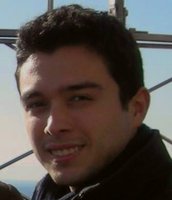 Alessandro Diaferia was born in Bari, southern Italy, in 1987. He holds a Bachelor's degree in Computer Science Engineering from the Politecnico of Bari and he is currently attending for the second level degree at the same technical university. He started his contribution to KDE in 2008 sending his first patch to Kickoff, the application menu applet for Plasma, and some other patches here and there to kdelibs and plasma. He was accepted to work on the Plasma Media Center Components project as Google Summer of Code project in 2009 that successfully accomplished. He currently is the mantainer of Plasma Media Center and mentor for it in the GSoC 2010.
Marco Martin
Marco Martin is born in 1981 and he is from Italy. He holds a Master in Computer Science from the University of Turin. He is a KDE contributor since 2007, mainly on The Plasma desktop shell project and other workspace related technologies like the definition and the implementation of the new X systemtray protocol. He is currently working for Qt Development Frameworks on the development of the Plasma Netbook shell, a workspace tailored for netbooks and other small screen devices based around the KDE and Plasma technologies.